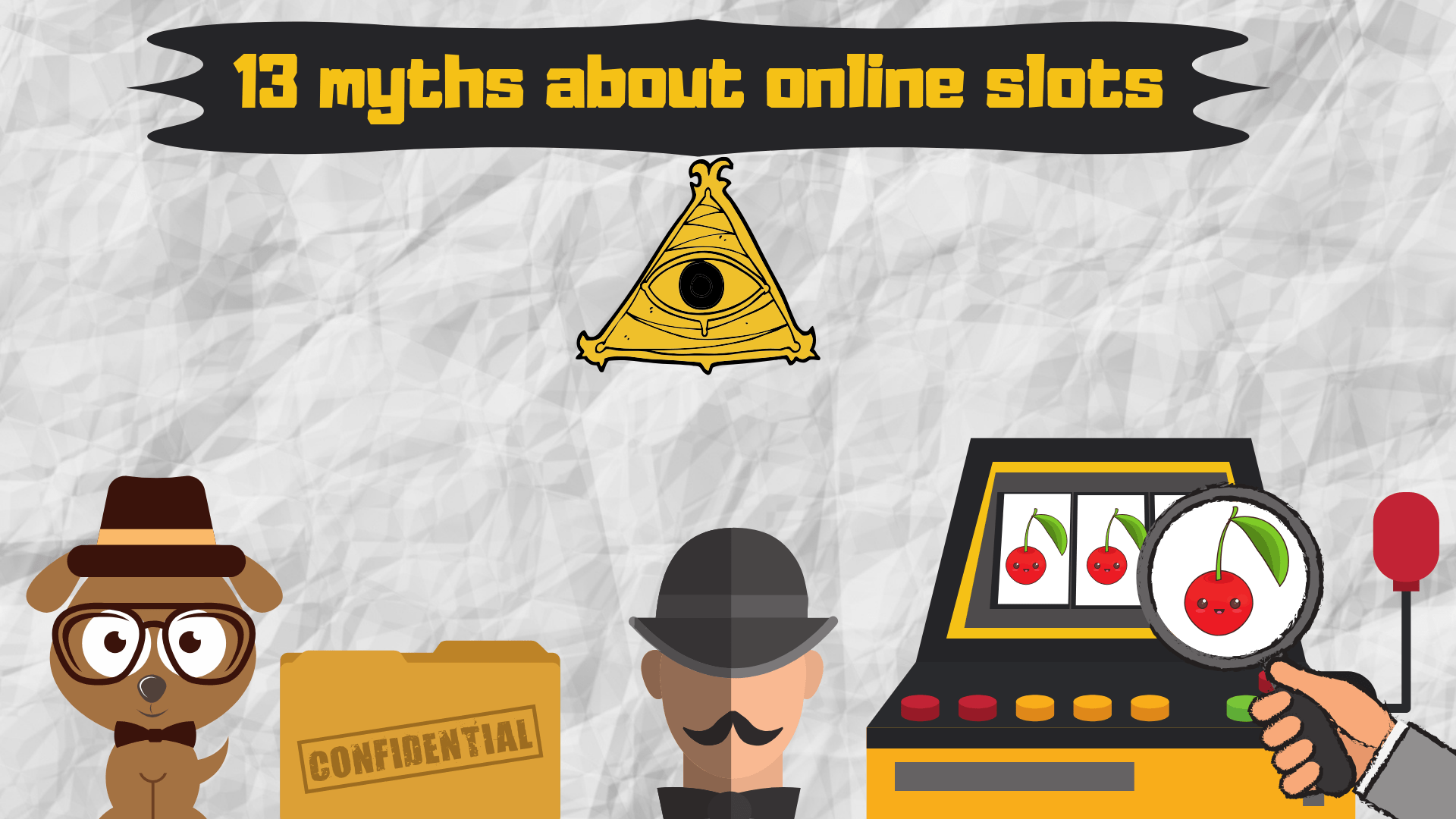 Functioning of slot machines is significantly different from functioning, for example, a roulette or many card games. There are not many outcomes in a roulette, and probability of each of them is known in advance. For example, probability of winning with a bet on one number is almost 3%. The "zero" sector might show up with the same frequency. A player knows this and therefore perceives such events adequately. But with slots there is another story. Slots have a mind of their own. There is an incredible amount of outcomes, usually there are a lot of bonus symbols, sometimes several bonuses, and the probability of each individual event is usually unkknown. And because of this there is a huge amount of delusions.
Tackling myths about slot machines:
Slots of company XXX are "preconfigured"

Verdict: partly true
While in emotional rush, in periods of terrible losing, players tend to think irrationally. They can blame anyone but themselves. And this is absolutely normal, this is how our psyche works. In such periods, it is possbile to hear phrases like "all Microgaming machines are"preconfigured". And instead of the Microgaming any manufacturers might be named: PlayTech, NetEnt, Novomatic, etc. In most cases this is a very obvious fallacy. Licensed slot machines work as it was designed by developers and always correspond to declared returns (95%, 97%, etc.). Only pirated slots – copies / emulators of original games – can be "preconfigured". They are able to seriously mislead players and in the literal sense of the word "steal money". They are customized as the owners of pirate casinos wish, so the return in them can be even at 1%.
In most cases, this is a case for Novomatic and Playtech slot machines. Casinos with licensed software from Novomatic can be counted by fingers of one hand, so you should be extremely careful. But there is another side to the coin. "Preconfiguration" might manifest itself in something different. It might be the principle how the slot machine is working. For example, very often two scatters show up in the machine, as if luring a player to go deeper and deeper. A person sees the bonus symbols and at the subconscious (and sometimes at the conscious) level, he is being convinced of increased probability of the third scatter showing up. Although probability of this has not changed. By this the device might tease and lure. And there can be many such tricks. In particular – flashing expensive symbols on different drums. These are cheap tricks that work flawlessly. And in this regard, very many, even the most modern slot machines are "preconfigured". But it is also important to understand that such frills have no effect on the payout percentage. Slot machine will give as much as stated.
---
Starting slot machine using Max Bet button increases chances of winning or changes slot cycle

Verdict: incorrect
Any slot machine can be started by different buttons: Spin and Max Bet (and there is also an auto game). This is often misleading and is the basis for unwarranted "strategies" and "tactics." Unfortunately or fortunately, the probability of winning does not depend on the way a slot machine is started. All buttons are made only for convenience. If there was no Max Bet, we would have to manually raise the rate to the maximum value each time. Do you need it? Devs also thought the same – and they implemented this unfortunate button. And there is also an opinion that by changing the Spin and Max Bet buttons you can influence the change of slot cycles. That is, a machine might be in a kind of "waiting mode" and it can be switched into the giveaway mode. This is a serious misconception.
---
Jackpots are made by a button touch.

Verdict: partly true
There is an opinion that the largest jackpots are getting by known in advance players – or people, who close to the manufacturer itself. For example, the Swedes suspiciously often getting jackpots in NetEnt slot machines. Coincidence? There is no way to prove the opposite. According to the basic principle of operation of any slot machine: each spin is unique. This means that it is impossible to assign a specific value to it at any particular moment. And even more it is impossible to award a certain player with a jackpot. How do you think it is implemented technically, when tens and even hundreds of thousands of people can play on the company's servers at the same time? Perhaps this is really a coincidence, but a little thought about it still creeps in (even if one realizes the randomness of each individual spin). Alas, human brain loves to search for all sorts of regularities.
---
Playing with a club card reduces your chances of winning.

Verdict: incorrect
The theory is that a casino wants you to win less in order to pay off the benefits and privileges that a club card gives you. However, the reality is that the amount of money that institution returns to you in the form of benefits is extremely small, that's why the casino is not against to pay them. Another fact is that there are simply no means in the slot software that could change the program of the random number generator based on whether the card is inserted or not.
---
Three-drum online slots give less/ more than modern analogs

Verdict: incorrect
This myth came from halls of real casinos, where there was always a clear division into old-school machines and machines of the new type. We will not delve too much in this world(we are talking now about virtual casinos after all). However, in online, too, there is a similar distinction, albeit conditional. It seems to many that one can win more or less in the old three-drum machines. This is not true. An automaton can be dispersive or not, it can giveaway 90% or 98% during long time interval, but this is where the parameters of its profitability end. The number of drums does not affect the return. Smaller drums means fewer possible combinations of symbols, but this also has no negative consequences. Such slots are just simpler, that's all. This is the same as comparing checkers and chess – or Limit and Unlimited Hold'em.
---
If there was no winnings for a long time, it will be soon

Verdict: incorrect
Does showing up of black or red sector in a roulette depend on previous values? Suppose, before that, black was showed up 10 times, does it means, that the probability of red increases? If you answered in the affirmative, it means that you are reading this article not for nothing! In fact, each roll in roulette – like a separate spin in slot machines – does not depend on the previous one. If black showed up 10 times, there are equal chances of black and red will show up on the next roll. The same story with slots. Each spin is unique and does not depend on the previous one. If the slot ate the last 10-20-30 spins, it does not affect the result in the future. Just the probability that a slot machine will not give out any prizes at all for, say, 100 spins, is minimal. From here there is a delusion. Always remind yourself of the uniqueness of each spin. Everything else is just the theory of chances.
---
It makes no sense to play the slot machine, which just gave a jackpot or a big win

Verdict: partly true
The same principle. Jackpot giveaway does not affect the performance of the slot machine. At least this applies to the NetEnt products. But as for other manufacturers – there are doubts. Unfortunately, the gambler always acts in conditions of incomplete information. He does not know for certain how jackpot is gathering in Microgaming or Playtech slots, as well as in individual casinos. And also – how this jackpot is then issued. It might be so, that this myth is relevant for some software, although, according to theory, this should not be. We recommend playing NetEnt slots, so you will have the maximum chance that this myth does not relate to reality.
---
Slot might be "hot" or "cold"

Verdict: incorrect
Each spin does not depend from previous. This is an axiom. It, of course, is valid only for licensed casinos, in which software is provided by developer, and not by some shady company. In a large and honest casino, all slot machines work as expected – i.e. follow "commandments" of the RNG. So there is cannot be any programmed plus or minus streaks in principle. BUT! A player must understand: when the machine adheres to the theory of chances, the result can be completely unpredictable. This means that the slot can give out 50 wins in a row (theoretically, it is unlikely, but possible) or it will eat like a pig these same 50 spins in a row. Here the normal distribution takes effect, when some probabilities occur more often than others. For example, in most cases, the machine will give out a win two or three times in a row, and then one or two empty spins will follow. Well, conditionally. And also conditionally, probability of this event is, say, 80%. But there are other outcomes. For example, the slot will give out 20 empty spins. The probability of this event is 0.5%. And so this will happen much less often, but this is normal! If there were no such streaks at all, this would be strange. So this is a completely ordinary phenomenon in the world of mathematics and statistics.
---
Slot giveaway depends on time of day

Verdict: incorrect
The myth that came to us from offline. Some players still believe that slot machines in real casinos are programmed for a lower payout percentage during peak hours – and, respectively, for higher giveaways during night hours or in a morning. In fact, for casinos there is no any sense to limit payments at any time of day. Institution makes a profit in any case: doesn't matter if there is one person playing or a hundred. In addition, it would be so obvious that even beginners would notice this trend. Moreover, not a single licensed online casino would pass the test of independent organizations. This is so obvious.
---
In autoplay probability of winning is lower

Verdict: incorrect
Another very common myth that may have once been partly true (but not now). A rather beautiful version: player sets the machine in autoplay mode and leaves to drink tea. He is absent, so the slot can be "changed" as you like, and the user will not even notice. It is likely that in a number of old gaming machines of some manufacturers there was something similar, but perhaps all of this is nonsense. The main thing is that in modern realities this is a real myth. Especially with the NetEnt slots. Autoplay is made for convenience of a player who, perhaps, decided to have a snack or likes to look at the result, and not at the process. Autospins can also spin faster, so the number of spins per hour increases significantly. This is true, for example, for more experienced or even professional players. "Preconfigured" auto-games can be observed in "pirated" casinos with copies of the original games. That's where there is no rules and anything can happen as soul of the owner of the institution will wish.
---
When playing with a bonus, the giveaway is lower

Verdict: incorrect
A popular misconception based on quite understandable logic: a person takes a bonus, and, of course, is not profitable for the institution that he would make a profit from it and in every possible way it tries to put sand in the wheels. If this would be true, no one would be able to play the bonus and make profit. By the way, it's not easy to play it anyway (the average wager is about 40), and if the casino was involved here … Firstly, the establishment simply cannot adjust the giveaway of slot machines on its own. Even the casino owner most often only does not have such power – because the software provider controls this (the NetEnt for example) and only he can perform such manipulations. Secondly, the institution and already receives its share of profits, without any additional manipulations. The welcome bonus is, of course, real, and a player can really cash in on it decently. But the power of gamble will bring him to this casino again, where theoretically he can spend much more.
We can say more. You MUST play with a bonus. If this is of course possible and if the wager is not very large (at least until x45). In some cases, a player will be able to get a positive mathematical expectation, i.e. when slot machine has a very high giveaway (for example, 98%), and the bonus has a very low wager (x30). Unfortunately, this is only temporary, but it is an absolutely legal way to beat online casinos, albeit briefly.
---
Highrollers always win progressive jackpot

Verdict: partly true
This myth goes back to the days when giants such as Microgaming & Playtech dominated the world of online casinos. In machines of these companies, there really is a condition that you can win the largest jackpot when playing at the maximum bet. And even then not always. Hence, it is believed that only highrollers get jackpots. Now is the era of universality: play at any bet and you will have equal chances with the rest to win a jackpot. This rule holds true for the most modern slot machines. So there is no need to always play on maxbet. And even if the slot machine still requires a maximum bet to win the jackpot, it is better to simply ignore it. The probability of winning jackpot still tends to zero, for an average player it is much more important to monitor the safety of their own bankroll than chasing ghostly chances to turn into a multimillionaire.
---
You cannot increase your chances of winning.

Verdict: incorrect
This sounds diametrically opposed to all the other tips on this page, but it is not. You can choose which type of slot machines you will play, and some of them provide better odds of winning than others. For example, a game with a fixed jackpot will always provide better odds of winning than a game with a progressive jackpot. Despite the fact that winning in the progressive jackpot can be measured in millions, this is not easier than winning the lottery. In games with high bets, the chances of winning are almost always better than in the cheaper ones. A game with a large number of video bonuses and extra features usually pay less than straight and simple machines. That's because bonus games in video slots take longer than just spinning the reels, which means players will put less money into the game in an hour. The institution compensates this by placing a lower percentage of payments on such machines.
---
Conclusion:
On the Internet, you can find an amazing amount of misinformation. Some of it is published by people who simply do not understand what they are talking about. Another part is published by people who just want to cut quick money from naive people.
Your goal – is to understand the topic and not to be the same fool. Playing slots can be a completely reasonable way to spend time in a casino. This is a lot of fun, and casinos are real temples of entertainment.